Organ Donations efforts and Facebook status – this looks sort of mis-match. In-fact, this is a perfect match to reach people wanting to donate organs and people looking for organ transplant. All over the world millions of people are waiting for the heart, kidney or liver transplant that will save their lives. Sad statistic is, an average of 18 people per day will die waiting, because there are not enough organ donors to meet the need. Facebook has launched life saving tool in the form of 'Organ Donor' status option in Life Events section of timeline profile.
Why 'Organ Donor' info sharing option on Facebook
Facebook is an ideal place in today's world where people meet and interact (virtually!). Besides sharing cool status updates, photos and videos – if we share information about person's willingness to donate organ, this should help people waiting for organ transplant to realise that dream more quickly.

With world wide reach breaking country based boundaries, people all over the world can share organ donor information and help save lives in the real world. Best part, if you are a willing organ donor – you can share this information on Facebook in few simple clicks.
Add 'Organ Donor' to Life Events on Facebook timeline
1. If are your interested in donating organ in future, you can share that I am organ donor on your Facebook timeline profile easily. Once you login into your Facebook account, click on your profile name to open your Facebook profile in timeline format.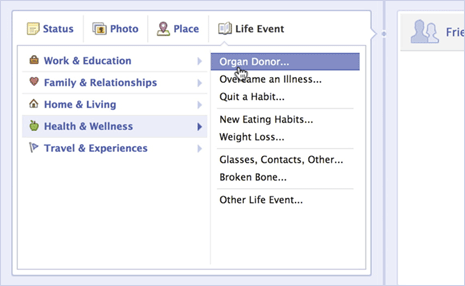 2. Then click on the Life Event option at top left part of the profile page. Then select Health & Wellness > Organ Donor option to continue and add Organ Donor information. As of now, this option is only available to Facebook users in few specific countries (so don't be surprised if 'Organ Donor' option is missing).

3. On the next screen, enter your organ donor information. Also select if you want to make this information public or want to share only with specific friends. Click Save button to show 'Organ Donor' information prominently on your Facebook profile.
Did you know: You can also share happy news of becoming parents from the start till the time baby comes in the world using I am expecting Child status update feature on Facebook.
Is adding 'Organ Donor' details on Facebook enough
No, Facebook is just medium to connect with people looking for organ transplant. To become an official organ donor, you need to register with your local authority. For example: users in United States and United Kingdom can check these resource for more precise information. Others can check with their local medical centers in this regard. Saving lives through Facebook, for sure a great idea! [source newsroom.fb.com]