Facebook has so many users worldwide making it a paradise for bad guys wanting to steal personal and financial information. Phishing is an attempt to steal personal information like account username and password or financial information through impersonation or spoofing. For example: a bad guy creates a fake Facebook login 'look a like' website, when you enter login details trying to access your Facebook account, you login details are recorded (and stolen!).
How to detect Phishing attempts on Facebook
There are number of ways to secure Facebook account by following basic hygiene in the online world. However, spammers try to out-smart an average user with ever so "realistic looking" fake techniques for Phishing. Following are few common activities that indicate possible Phishing attempt.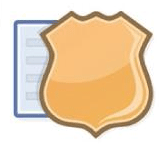 1. Are you getting email messages with urgent requests for your address and financial information like bank account? Never share your personal and financial details online unless you are sure of website or person receiving it.
2. Is your Facebook account automatically posting spammy messages and links to your Facebook friends? In case of hacked Facebook account this is common as hacker is now trying to hack your friend's accounts by sending spammy messages.
3. Be careful about weblinks shared with you on Facebook Chat, messages and email. If you have suspicion about specific link, do not open it. Bad weblinks is the start of phishing cycle in many cases, so exercise caution.
Email for reporting Phishing attempt to Facebook team
1. Facebook has introduced a public email ID [phish@fb.com] where any user can report about Phishing activity. Facebook team will analyse information sent by you and attempt to identify bad guys. This will work with existing internal routines for online protection on Facebook. [source]
2. Facebook will inform reporting user about the Phishing activity. Also, affected users will be prompted to change their password and provided education to better protect themselves in the future. If you have problem logging into your Facebook account as a result of Phishing attempt, you can goto facebook.com/hacked to start recovery procedure.