Guruji is a popular India specific search engine which has launched music apps for Orkut and Facebook users. Using these, one can access Indian music of their interest – not limited to Hindi, Telugu, Kannada and Tamil. Users can also search old and new music using any keywod from song title, movie name, singer, actor etc.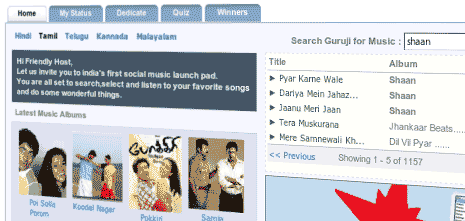 Guruji Facebook application allows users to dedicate music to their friends. Guruji Orkut application MusicG allows you to listen to any Indian Music recorded so far, enjoy music socially, dedicate music to your loved ones / hated ones, play a fun quiz and much more.
Test drive Guruji music apps on your Orkut and Facebook accounts and relish latest or vintage Indian music on the web. Guruji music apps links for Facebook and Orkut.