For starters, Guruji is "India specific content" search engine. Besides searching for localized content, it has been rolling out music search features. Previously, it launched orkut and Facebook music apps to listen music online. Now, it has launched music ringtone search and download feature.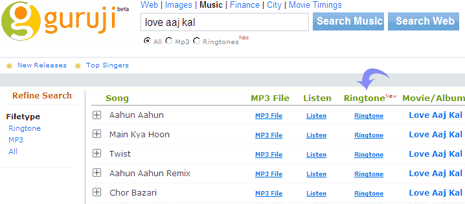 Just goto Guruji search and click on music option. Then type specific keyword for music search to see mp3 and ringtone results. You can listen mp3 songs, ringtones online or download them quickly on your computer. Obviously, download links point to 3rd party websites offering ringtone downloads.
It for sure can become killer application to search Indian music, till someone sues it for copyright infringement (fair or unfair – you decide and download)!