Naukri.com is leading jobs portal in India. It has launched new "Paycheck" tool that allow estimation of your probable salary in specific job position. Final figures are calculated on basis on number of factors from huge database of profiles already listed on the Naukri.com website. To get going: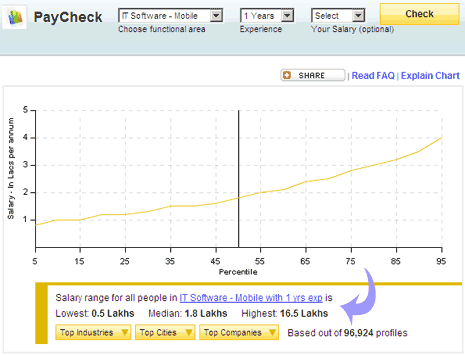 1. Open Naukri PayCheck tool website.
2. Select functional industry area from drop down box.
3. Then select number of years of experience.
4. Click Check button to see estimated salary details.
It will show the lowest and highest salary figure for selected job position. You can see more information by clicking: top industries, top cities and top companies tabs at the bottom. For more specific results, refine your job profile information using "Personalize & Compare" box on the right for more accurate salary estimation. Wanna try salary estimation?