Users dealing with money perform lot of calculations on daily basis. Besides calculating numbers, they also get dirty with currency conversion process. Curculator brings both calculator and currency converter in one interface to save lots of time. It has neat interface and you can perform calculations, currency conversions on the fly.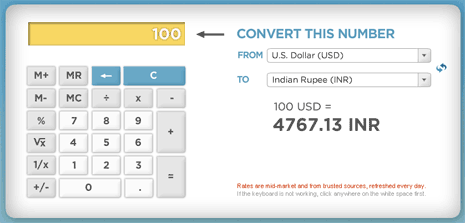 Related – Calculate Paypal fee with online calculator
For currency conversion select to and from currency type. Enter the number to see real time coversions figures. It fetches updated currency conversion rates from reliable sources and are refreshed daily. It also offer premium paid option to use this online tool for currency conversion with rates taken from specified local bank.
Calculator feature is also very easy use. Best part, you can use your keyboard (numeric part) to directly enter figures and perform calculation. No more getting tired clicking on numbers using mouse. Checkout Curculator for quick and easy calculation and currency conversion. It is simple, easy and saves you lot of time while dealing with money figures!