Are you missing Indian bollywood music on iPhone? Well, not any more with Dhingana all ready to spread cool Indian music on iPhone / iPod touch. You can listen to latest bollywood tracks while on the move using iPhone. To get started, just grab Dhingana app or point your iPhone browser to Dhingana web app at m.dhingana.com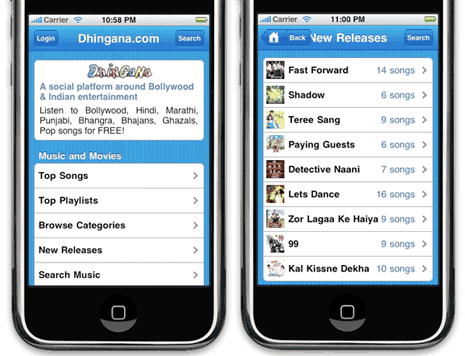 Features of Dhingana music on iPhone
1. Listen latest & best music using iPhone on EDGE / 3G or Wifi networks.
2. Hear to songs in background & access other applications at the same time.
3. Access all the public playlists created by other users.
4. Login and access your own public and private playlists.
5. Search for song, album or playlists by actor, year, singer, director etc.
Get into Dhingana music mode for latest Indian Bollywood music [via Dhingana blog]. Alternatively, you can access cool music from Dhingana within Gmail and iGoogle interface, try bollyhood app for videos or download bollwood ringtones at Guruji. Options galore – take your pick!