Geotagging feature adds location information to photos. It adds latitude and longitude location data to EXIF header of a JPEG photo file. Using that data, devices and application can display location information associated with specific photos. Many websites like Flickr, Facebook, Google Maps support geo location and display location information for images (as and when it is available for current photos). You can protect privacy by disabling geo tagging feature for images taken using Apple iPhone device.
Disable geo tagging of photos on iPhone

1. Navigate to Settings > General > Reset > Reset Location Warnings on your iPhone.
2. Press Reset Warnings, enter passcode if you get prompt for the password (when protected).
3. Now to confirm on settings, open any app that use location data. You can open Camera app on your iPhone. You will get following message:
"Camera would like to use your current location. Photos will be tagged with location were they were taken"
4. Click Don't allow to disable adding geotags on photos taken on your Apple iPhone device.
Photo taken using iPhone will not contain geo tagging location data. This will come as relief for users concerned about privacy of location data attached to photos being shared. For existing photos with geo location data, you can use free tools to remove geotags from images.
'Geotag Editor' app for iPhone
Geotag Editor iphone app allows you to edit the location data (geotag) of the photos in camera roll. It supports Map display and modification for the location information (geotag) recorded in photographs.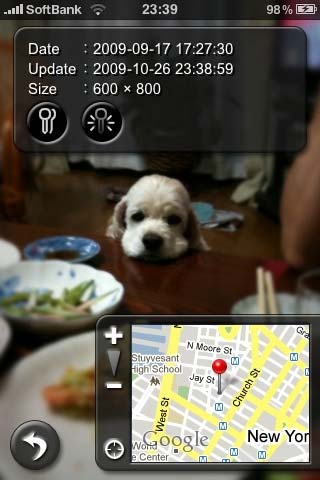 You can add location information to photos clicked using non-standard cameras. More importantly, you can remove geotags (included in EXIF of jpegs) from photos easily.