If you are an iPhone user and use Yahoo Calendar for online management of daily routine, then here is good news of easy sync of Yahoo Calendar with iPhone Calendar. As pointed by Ymail blog, Apple and Yahoo have collaborated to bring this easy to use sync feature. There is nothing to download, following steps should sync Yahoo and iPhone calendar on the fly.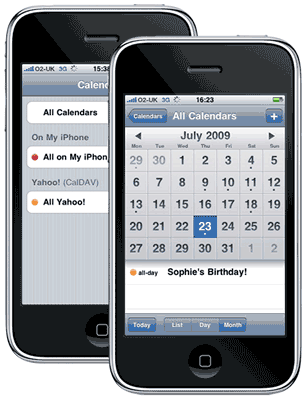 Steps to Sync Yahoo & iPhone calendar
1. Go to iPhone settings application & tap "Mail, Contacts, Calendars".
2. Tap "Add Account", tap "Other" & then tap "Add CalDAV Account".
3. For the "Server" type "yahoo".
4. Enter Yahoo username and password to sign in to your calendar
5. Once you click save, the iPhone will verifyyour username and password.
6. Next time you open up your iPhone Calendar you will see a page allowing you to select which Yahoo Calendar layer you want to view/edit.
Also Note: Once you start syncing your Calendar with your iPhone you will be upgraded to Yahoo Calendar Beta automatically. You cannot go back to the old calendar product once this is complete. Ready for sync?