iCloud service on your iOS devices like iPad and iPhone automatically backs up files, applications and settings to your account's online cloud storage. By default, you have 5GB of free storage and backup space with your iCloud account access. You need to purchase additional space beyond 5GB, hence it is important to keep eye on remaining (available) storage and backup space for iCloud service.
Find available Storage & Backup space for iCloud
1. Tap on Settings icon located on the home screen. Then tap on iCloud option on left side to view options associated with iCloud service of your iOS device.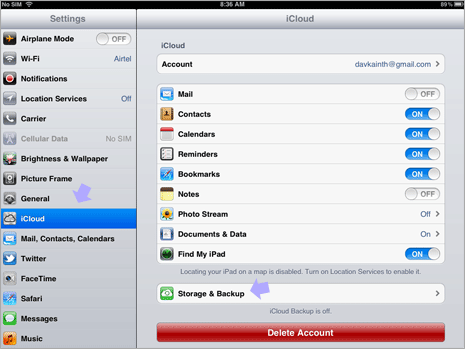 2. On the iCloud options screen, tap on "Storage and Backup" option at the bottom. This will open "Storage and Backup" screen with storage capacity and available details.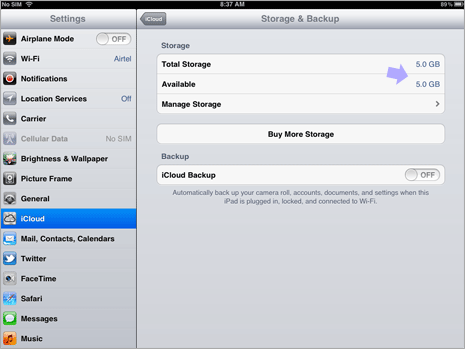 3. You can see available and total storage space. If you are running out of storage space, you can either delete some part of content that should be backed up using iCloud or purchase more space by tapping 'Buy More Storage' option.
If you plan to use only free 5GB of allocated space, make sure the size of your backed up data is within limit of 5GB. If backed up data size cannot be reduced, it is advisable to purchase more storage space for iCloud service accessible from iPad and iPhone devices.