Email messages sent from iPad contains sender's name. By default, it is the name assigned to ipad device from which message is being sent. You can customize the sender's details published in sent messages by modifying email signature text. You can add quote, address, telephone, email ID, profile website URL and more to email signature stamped on outgoing messages on Apple iPad.
Customize email signature for sent messages on iPad
1. Tap on 'Settings'on the iPad home screen.
2. Then tap on 'Mail, Contacts, Calendars' on left column of settings screen.
3. Now tap 'Signature' option on the right column on 'Mail, Contacts, Calendars' screen.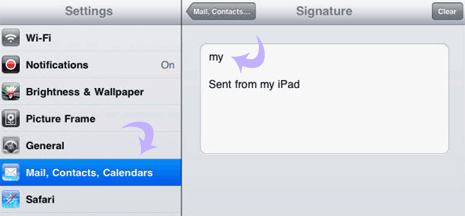 4. Your current signature will appear (by default, it will show your name). Tap on it to make changes to email signature. You can add words like Regards, Cheers or add witty one liner quote to it. Only textual signature is supported (no HTML).