We have already seen how to find iPad IMEI, ICCID & serial number. MAC address is another unique iPad tablet detail that identifies each iPad device. MAC stands for Media Access Control and is used as unique identifier for networking use. You can easily find MAC address (wifi and bluetooth) details from the 'About' settings screen of your iPad device. Here is simple and quick routine to determine your iPad's MAC address.
See iPad's MAC address on 'About' settings
1. On the iPad home screen, tap the Settings icon. This will open default Settings screen on your iPad. Here tap on the 'General' option located on the left side menu.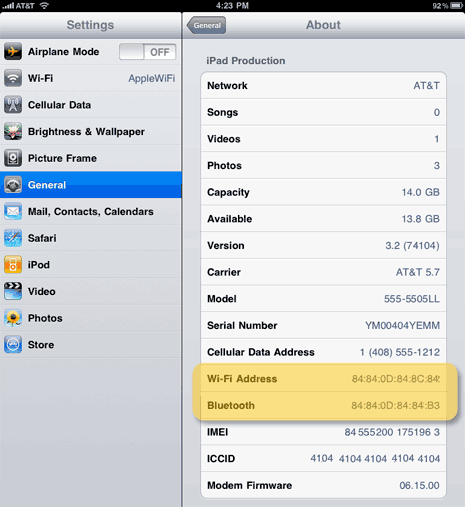 2. Then tap to select 'About' option on the right side. It will show lot of details including Wifi address and bluetooth (see highlighted in above screenshot).
Video: Check MAC Address on Apple iPad
Here wifi address is the MAC address of your Apple iPad tablet. Once you know the unique MAC address of your iPad device you can setup networking connections as per requirement.