Newer Safari browser has lot of new features like geo location, better tab control and support for Extensions. Apple has opened 'Safari Developer Program' allowing developers to build free extensions for Safari browser. While official Safari extensions gallery opens in later summer, you can grab cool Safari extensions from unofficial gallery.
Unofficial Safari Extensions Gallery

safariextensions.tumblr.com feature collection of free and useful Safari extensions. You can browse through gallery for different type of extensions and install extension of your choice.
Make sure you enable extensions feature in your Safari (5 or above) browser. There are number of extensions like bit.ly URL shortener, block ads on Facebok, full screen Youtube and so on.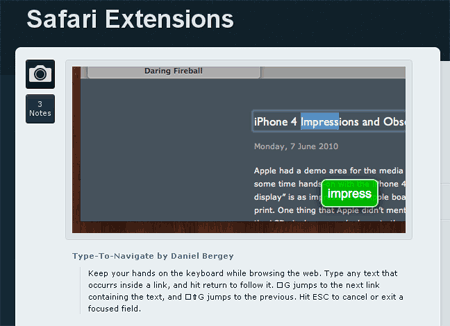 Download extensions and extend functionality of Safari browser as per your requirement. Will keep you updated when official Safari Extensions gallery opens!