Number of websites like Google Maps use physical location details to provide relevant information. If you are accessing website in browser with active "Geo location" feature, then website can extract your physical location details. However, few users may not want to share their location details and want to disable this feature completely. Newer Safari 5 browser has 'GeoLocation' feature which can be turned off easily.
Turn off Location services in Safari

1. Launch Safari browser (version 5 or above).
2. Goto Safari > Preferences or Edit > Preferences to open settings window.
3. Click on "Security" tab. Then click to uncheck "allow websites to ask for local information" option (no tick on this option).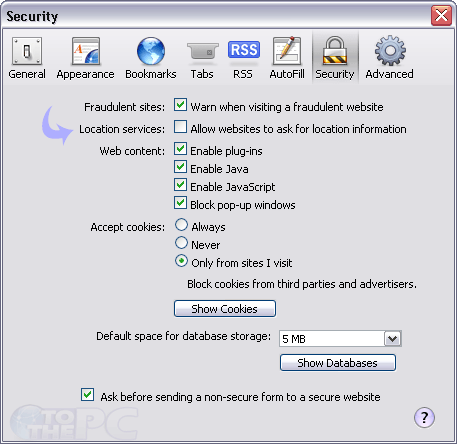 From now on, no website will ask and capture your location information allowing safe internet browsing in Safari web browser.
Disable Geolocation in Firefox & Chrome
Just like Safari browser, you can also follow simple guide to turn off geo location feature in Firefox and Google Chrome web browser.