Apple provide free ibooks app for reading ebooks files on iPad device. It is very handy application for easy reading of ebooks with direct access to Store for downloading latest ebooks of your choice. You can make ebooks reading experience more comfortable by customizing font style of the text. Also, you can control glare brightness by switching to theme with less brightness ideal for reading at night during low light.
Customize font style & brightness themes in iBooks
1. First make sure you update iBooks application on your iPad. Goto iBooks page for downloading latest version 1.5 (or above). New features to customize font and theme are only available in updated iBooks application for iPad.
2. Once you install the latest version of iBooks app, launch the application. Open any of your favorite ebook in the application. Tap A alphabet icon at top right to view options for Fonts and Themes.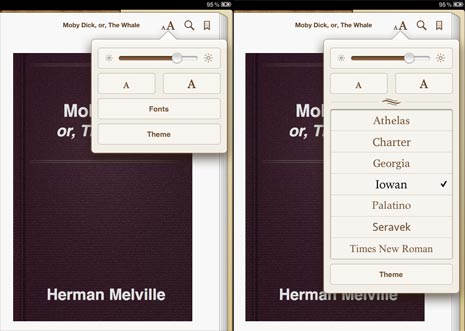 3. In the drop pop menu, tap on Fonts to access various font type options including: Athelas, Charter, Georgia, Iowan, Palatino, Seravek and Times New Roman. Tap to select either of font as per comfort level and choice.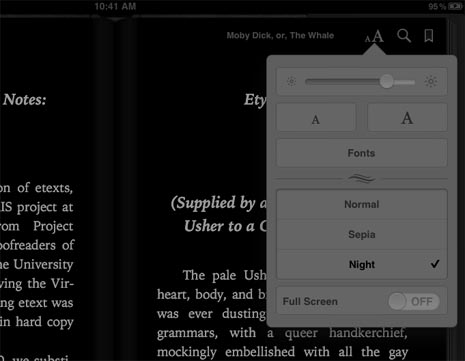 4. To change brightness of the display while reading ebooks in iBooks, tap on Theme setting. You can select either of Normal, Sepia or Night options. Sepia and night option can be used during varying light conditions in your reading environment.
These customization for sure makes ebook reading more comfortable on eyes. Make sure you customize font and theme options for best reading experience on your iPad.