iCloud is a major feature addition to Apple devices using iOS software. With iOS version 5, iCloud and other features like split keyboard on iPad and lots more are added to iPhone and iPad devices. Make sure you update iOS to version 5 by connecting iPad (or iPhone) to computer and using latest iTunes software. After iOS 5 update, you should able to setup and use iCloud service on iPad device.
Settings up iCloud service on Apple iPad
1. Once you successfully install iOS 5 update on iPad, tap on the Settings icon on home screen. Then tap on iCloud option on left side to open login screen for iCloud service.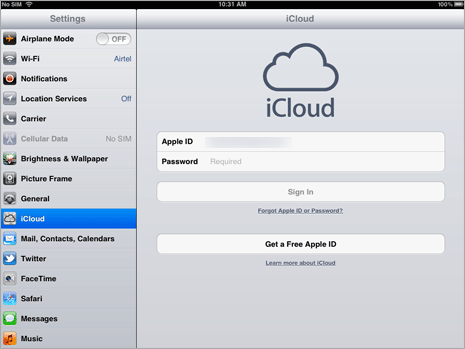 2. Enter your Apple ID password and tap on Sign In button. If you do not have Apple ID, you can easily create new Apple ID to quick start using on Apple devices.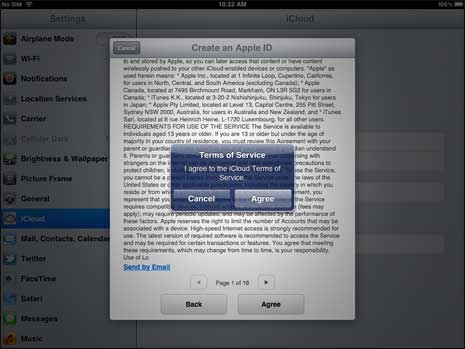 3. Then you should see terms of service for using iCloud service using specific Apple ID. You can scroll to bottom to toggle between pages displaying terms. Tap Agree button to continue.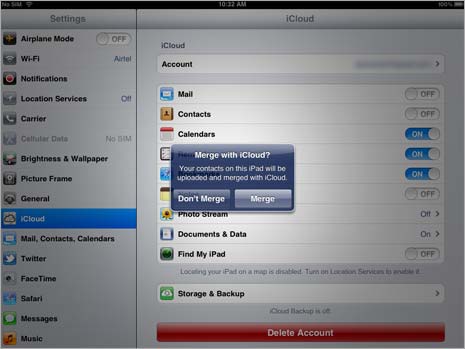 4. Now you should see prompt to Merge contacts with iCloud. If you want to upload and merge contacts with iCloud, tap Merge to continue (it is recommended to merge contacts for easy accessibility).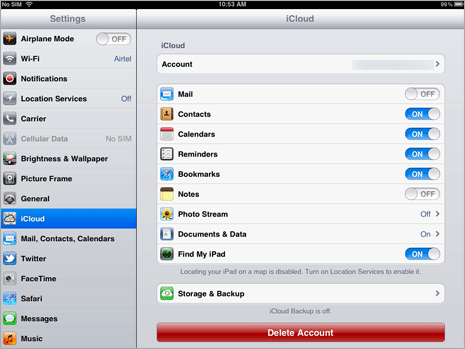 5. Now you should see various aspects listed for iCloud service like mail, contacts, calendars, reminders, bookmarks, notes, photostream, documents and find my ipad.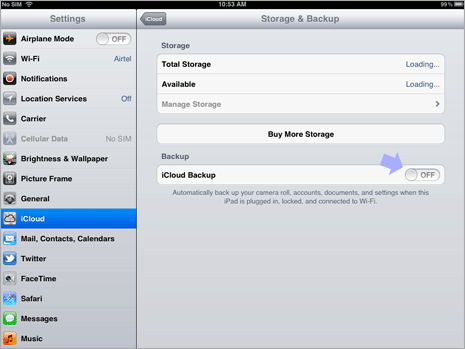 6. Next step involve turning on iCloud backup service by tapping on Storage and Backup option. On the next screen slide to set ON option next to iCloud Backup under Backup section on Storage and Backup page. From now your data will be saved on iCloud and synced wirelessly using iCloud service.