Ideally you can open one interfacing application on Apple iPad. There is no need to close current app while you go ahead with opening of another application. You can easily run multiple applications and toggle (or switch) between them as and when required. For example, you may pause game play and open Safari on iPad to surf the internet and then get back to playing game from the paused state. You can open number of applications at the same time and close iPad apps running in background as per requirement.
Switch between multiple opened apps on iPad
1. While you have multiple apps opened and running on iPad, press Home button two times (Home button is located at bottom middle part of the iPad device). Home screen will dim and shift upwards, listing the app icons of currently running applications.

2. Tap to switch and open any application listed in the already running list. If you have lot of applications in that list, swip from right to left to view more app icons in the listing.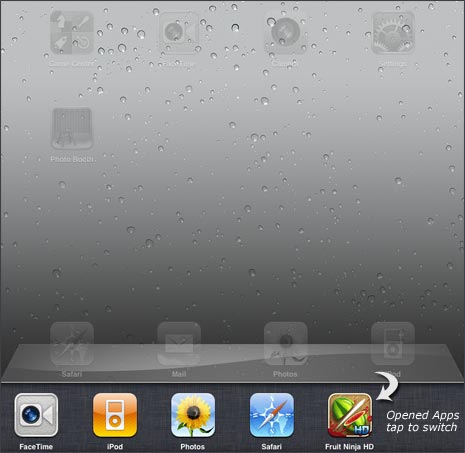 So, if you got something important to do while you are playing an interesting game on iPad. Pause the game, finish the other work and get back to game by switching to game app using above procedure – multi tasking to your rescue, what say?
If you want to bring similar multi tasking while only browsing internet on your iPad – then check Split browser app for iPad. It splits browsing window allowing you to browse multiple websites independently at the same time.