Apple iPad provides a unique and big screen viewing pleasure of photos and videos. It also focuses on ability to read ebooks and newspapers in flip book style reading. You can read best newspapers from top publishers on iPad in few simple hops. Newspaper reading is customized for big screen comfortable viewing on ipad device.
Access Newspaper content on iPad

1. First you need to buy and own an Apple iPad. Head over to apple.com or local retailer to buy your very Apple iPad device.
2. Then tap on application icon on iPad home screen to check apps installed on your iPad. You can goto App store and add applications for top newspapers like New York Times (free app). Apps are also available to access news content from BBC News, AP and Then Wall Street Journal. Checkout best ipad apps, you can also search app store for more news apps.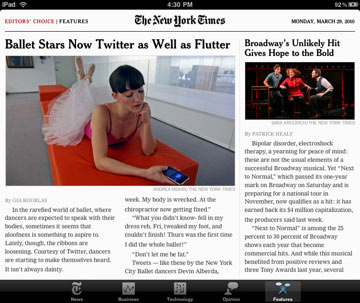 3. Once your newspaper app is loaded on iPad, get set with newspaper reading session on the comfortable big iPad screen.