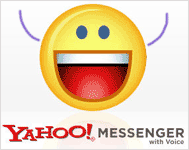 We have already seen 5 Google Talk tips beyond simple Gtalk chat. Here are few tips and resouces for Yahoo Messenger users. With following plugs you can spice up your Yahoo Messenger chat experience and do more beyond simple chat routine. Here goes:
1. Show online activity updates – From uploading new Youtube video, flickr photo to new Yahoo buzz story – you can share all juicy online activity details with Yahoo Messenger friends. Goto Yahoo profile, click Manage My updates and then select Yahoo and non-Yahoo web services to show activity updates next to your profile name in Messenger window [more details]
2. Grab or Copy Messenger avatar – Feeling jealous of avatar image of your Yahoo messenger friend? Well, get over it by copying his avatar image and using it in your Yahoo Messenger profile with avatars grabber.
2. Facebook users chat with you  – PingBox app for Facebook  allows Facebook visitor to chat with you. Just embed PingBox on blog or website and you can reply users using your Yahoo messenger to messages sent via PingBox.
3. Sync Twitter with Yahoo Messenger – When you change your Yahoo Messenger status, associated Twitter account also gets updated automatically with WackyB Twitter Syncplugin. It also got loads of other features for easy tweeting and messaging at the same time.
4. Multiple Yahoo Messenger – If one Yahoo messenger isn't enough, get into multiple messenger mode. Little scary registry fix can allow you to enjoy and relish goodness of multiple Yahoo messengers.
5. Remove Ads in Yahoo Messenger – Ads in Yahoo messenger looks big in really small messenger window. Get a life and remove the ad block with patch trick for an ad-free Yahoo Messenger.
6. Free messages as SMS when offline – You can easily setup 'I am on SMS' feature in Yahoo messenger. When offline, any message sent by Yahoo messenger friend will be delivered as SMS on your mobile phone for free. You are only charged if you reply to that SMS from your mobile phone.
7. Catch hidden messenger friends – Is someone avoiding you by using hidden status on Yahoo Messenger? Well, we have already seen 5 cool ways to find out hidden Yahoo messenger friends and surprise them big time.
8. Watch videos In-Sync with friends – You and your Yahoo Messenger friends can watch Yahoo, Flickr and Youtube videos in perfect sync. After you and your friend load the in-sync plugin – start, pause or close the video and your friend will have the same experience.
9. Access messenger without messenger app – You do not need Yahoo Messenger application installed on the computer to be chatty with messenger buddies. There are number of "all in one" online web messengers to chat with messenger buddies within web browser, we have already seen 5 best ones.
10. Yahoo Messenger shortcuts – For quick Yahoo messenger chatting, how about learning few keyboard shortcuts and impress messenger buddies swiftly? There are few and very useful keyboard shortcuts worth remembering.
MORE YAHOO MESSENGER RESOURCES
If you like the above listing, let us know by adding a comment. Also share additional Yahoo Messenger tips for further addition – happy chatting!