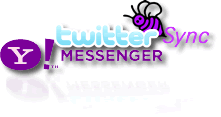 If you are addicted to Yahoo Messenger and Twitter, then Twitter Sync plug-in should make your 'Techno Life' real easy. No need to hop to Messenger Window & Twitter separately, with this plugin do it all from one place.
This plugin allows you to sync Messenger status and Twitter without any fuss. So, when you change your Yahoo Messenger status, associated Twitter account also gets updated automatically. It has loads of other features including:
See your friends latest Twitters right in your messenger window.
Expanded window shows last 10 Tweets from you & friends.
Alerts and notifications for new Tweets received.
Update your Yahoo Messenger status from anywhere in the world.
Besides above, there are number of options to configure Twitter-Sync plugin as per your requirement. From control panel: set how often you want Messenger to check for updates from your Twitter friends. Also control what kinds of Messenger status messages get pushed to your Twitter friends.
Download WackyB Twitter Sync plugin and interface Yahoo Messenger – Twitter like never before. Besides making things easy, it should save lot of time in the process of updating Twitter status and cool chatting with friend on Yahoo Messenger.