Twitter has introduced new look profile pages. Unlike Facebook which went for radical "over the top" with its timeline profile layout, new Twitter profile layout is a refreshing change. It is not radically different instead is an extension of exiting Twitter profile layout. Most prominent element of new Twitter profiles is large header image at top right (center) part of the profile page.
Comparing Old & New Twitter profile page layout
1. Most prominent change is the large header image at the top of new Twitter profile layout. Even new look profiles at Facebook and Google+ put emphasis on large header photos at the top.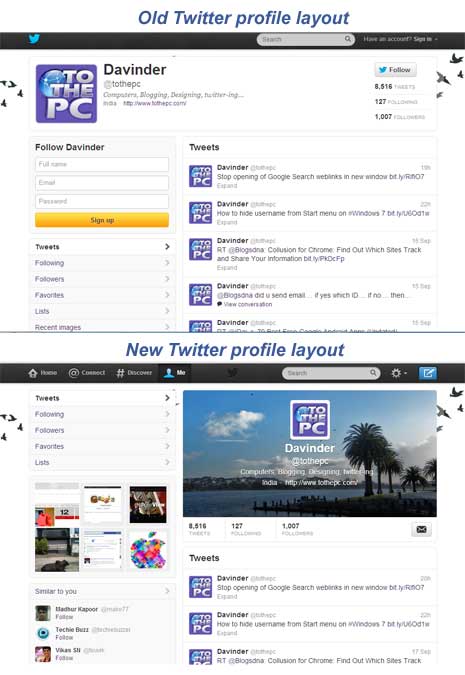 2. Follow button has better visibility located at bottom right side of the header image. Once you login into your Twitter account, it is replaced with direct messages button (mail icon) allowing quick access DM feature on Twitter.
3. Overall new design look more fresh, organized and in your face. Best part, the business area of tweet and reply remain the same. This should allow easy switch to new design without too many people complaining.
Activate new Twitter profile by uploading new header image
1. Login into your Twitter account and open twitter.com/settings/design URL. Alternatively, when logged in: click on gear icon and then click "Settings". On Settings page, click on "Design" option on left sidebar.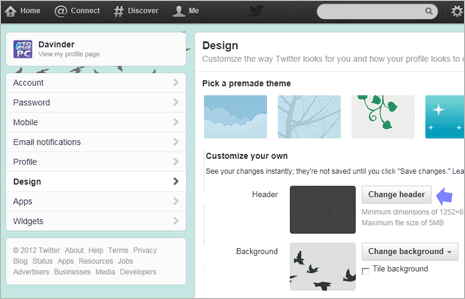 2. On "Design Settings" page, scroll down and look for "Customize your own" section. Click "Change Header" button and select photo stored on your computer that you want to set as new header image. Please note, selected photo must be of 1252×626 dimension and less than 5MB in size.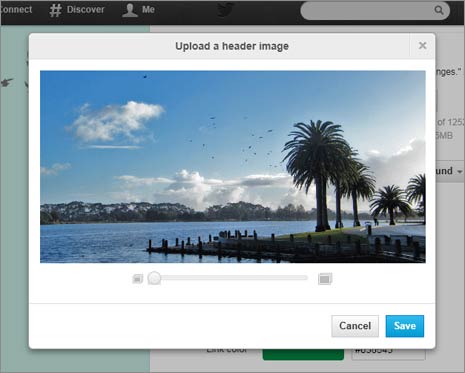 You may get "Internal Server Error" while uploading big size photo. In such case, keep trying photo upload and you can try to upload a different smaller sized header photo to check on the issue.
3. Once photo is uploaded, you will get intermediate screen allowing you to zoom and make specific selection in the uploaded photo. Click Save button and new header profile photo should be live on your new look Twitter profile.