Contacts management has gone easy with new Ovi Mail 2.0 update. Now you can access contacts as one merged contact list from Ovi Mail contacts and Ovi Contacts. It allows you to sync phonebook with Ovi Contacts and Ovi Mail enabling you to view, edit, delete or create your contacts from Ovi Contacts or Ovi Mail.
Merging contact lists for better management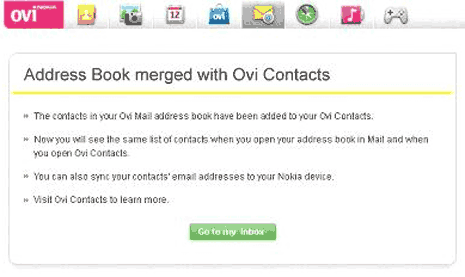 1. After merge Ovi Mail contacts are added to Ovi contacts.
2. Same contacts appear in Ovi Mail and Ovi contacts.
3. Syncing of contact's email addresses.
Checkout mail.ovi.com on your Nokia device for better merged contacts list and newly added Arbaic language support. [via NokiaBlog]