Besides the Tweets / messages, a unique background on your Twitter account can make your Twitter profile standout. There are number ways to design and customize Twitter background for that unique look like using latest Flickr photos as Twitter background, use Twitbacks, download free Twitter backgrounds or use DIY (do it yourself) Twitter background online designer tool 'Free Twitter Desginer'.
To get started, select any of the basic design and then click on 'get started' button for flash based online editor to customize design further. Using design editor you can add any image as Twitter background. It also allows you to add different shapes and text which can be customized further.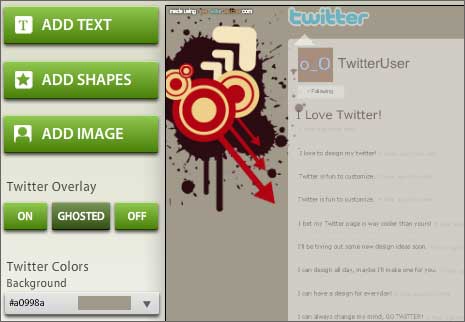 You can also customize colors of each elements of Twitter background. Free Twitter Designer is very easy and effective way to create unique Twitter background for your Twitter account. Give a test drive – you will like it!