["Twitter DM Deleter" Freeware release by TothePC Labs] Are you looking for an easy way to delete DM (direct messages) on Twitter account? "Twitter DM Deleter" is a portable tool to quickly view and delete DMs of your Twitter account. You can see all direct messages, then select few or all and delete them with a click of a button.
Delete Direct Messages DMs of Twitter account
1. Download Twitter DM Deleter tool.
2. Unzip & double click to launch this portable tool, no install required.
3. Enter Twitter login details & click Authenticate button. (Note: it may take some time, if you have lot of DMs in your Twitter account.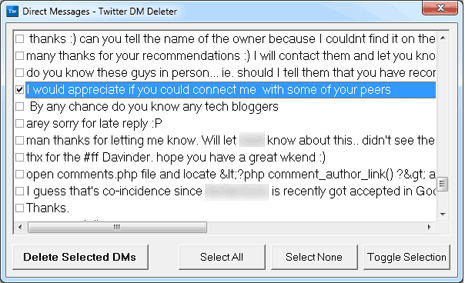 4. Click to select specific DM or select all and then click "Delete Selected DMs". Click "Yes" on confirm screen to quickly delete specific DM (direct message). You can login again to view and delete other DMs in your account.
Twitter DM Deleter Specs
Portable, 20.1KB, Works fine on Windows 7, Vista & XP. It was successfully tested for deleting 100 DMs of Twitter account in a single shot.
Version Updates
Feb 11, 2010 Added new features:
1. User can select type of DMs to display: received or sent.
2. Authenticate button changes text & is more user friendly.
3. Display number of DMs for logged in acount.
Please link to the release article if you would like to spread the word (refrain from hotlinking the download file).