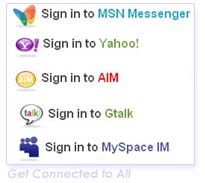 Do you like chatting via Instant Messenger? I am sure most of you will answer YES! Some of us use messenger for staying connected for fun, while others do it for serious business.
Whatever the reason be, most of us are closely connected to friends via IMs. With so many IM services present like Yahoo, my space, AIM, Gtalk etc it gets difficult to remain connected with all.
Also, one has to install different IM application to stay connected with friends on respective platforms. Solution? Using Web based (browser) Messenger services you can remain connected to most of your friends.
Just Open Internet Explorer/FF, type in the username/password for the IM services you want to stay connected and start having fun… I mean chatting. Here is list of such wonderful services:
1. Meebo – It tops the list beacause personally I love it. Nice clean interface and one service that never lets you down. No registeration is required and can be used to connect to Gtalk, Yahoo, AIM, Msn. Also you can Meebo widget to embed chat service on your website/blog.
2. Mabber – Besides the web based chat interface you can also embed its widget on a website/blog. You can also use this service on your mobile phone and stay upto date with instant alerts.
3. Easy Messenger – A free instant messenger service that runs entirely from your web browser. Combine your MSN, ICQ, AIM, Yahoo! and Jabber contacts into one solution. With the build-in RSS reader you can also stay up-to-date with your favorite RSS feeds.
4. Kool IM – Another Web based messenger comes with cool interface. It provides Firefox add on to use this service in browser sidebar and supports AIM, ICQ, MSN, Yahoo, Google Talk.
5. All New Chikka – Besides web based IM access for AIM, ICQ, MSN, Google Talk and Yahoo, it also offer Free two way PC-to-mobile messaging.. yes it is free.
Out of above, Meebo is my sure shot favorites. Besides these, there are so many other website that offer similar service like: IMunitive, imo.im, Snimer, ebuddy.  Enjoy and happy chatting!