Do you want to open multiple Yahoo Messenger with different logged in accounts? Well, this is possible and is very easy to implement. This involves modification of a registry file.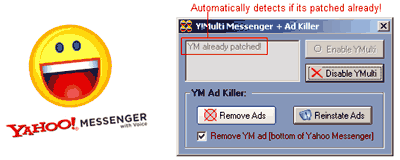 Registry can be scary place for an average computer user. So, to make things more easy – just download and install small application 'Y!Multi v 8.x and 9.x', a Yahoo Messenger Polygamy patch to run multiple instances of Yahoo Messenger perfect for those who use several Yahoo ID's. With this you can login to as many Yahoo ID's that you have. This will work with 8.x versions of Yahoo Messenger. It includes built in ad killer for chat and webcam features, also comes with the Ravebuttons.ocx file.
In case this does not work, then check 'YMulti Registry v 8.x and 9.x' the actual registry fix for YMulti Messenger. By double clicking and importing this to your registry, it will allow multiple instances of Yahoo Messenger. If you are cool at making manual modification to Windows registry, after you backup the registry perform following steps for multiple instances of Yahoo Messenger.
Go to Start > Run > Type regedit,hit enter
Go to HKEY_CURRENT_USER > Software > Yahoo > pager > Test
On the right pane > right-click and choose new Dword value .
Rename it as Plural.
Double click and assign a decimal value of 1.
Now close registry and restart yahoo messenger.
Above are 3 ways (applications patch, registry patch, manual registry changes). Use either of way to enjoy and use multiple instances of Yahoo Messenger!