Microsoft has been running 'I am PC' campaign for a while now. To give more prep and visibility, here is exclusive 'I am PC' Live Messenger Theme.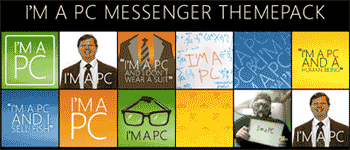 You can download and use this theme for free and make your LIVE messenger more colorful. Visit the Theme download page and click on download button, it will be installed automatically.
Hang on… if you are using browser other then Internet explorer (say Firefox) – the download button will not work and you will get a pop message:
"… Messenger Theme Download requires Microsoft Internet Explorer". Pretty lame, so to download this theme you need to open the download link in IE – got it?