Ideally we can share and watch Youtube videos while chatting with friends on Yahoo Messenger. Zync plug-in adds new dimension to watching videos in Yahoo Messenger. It allows you and your friends to watch videos in perfect sync. With this plugin installed, paste video link in IM chat window. A video player will load in conversation window with button 'Watch With Me'.
Your friend will be asked to load the plugin to begin video watching experience 'in-Sync'. From now on: you can start, pause or close the video and your friend will have the same experience. Either of you can control the video and even watch video fullscreen.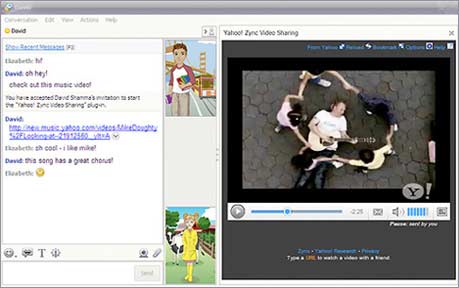 Related – Sync Twitter with Yahoo Messenger for quick updates
As pointed by Yahoo Messenger Blog, Zync is great when you want to discuss a video while you both watch it. The two of you are always at the same point in the video so your friend cant spoil the big ending by jumping ahead (if they do, you jump ahead too). Sounds cool, watch video 'In-Sync' with zync plugin, it supports Yahoo videos, Flickr and Youtube videos.