As reported earlier, Youtube has struck deal with IOC to showcase Olympics videos. Official Youtube Olympics Channel has gone online with loads of videos.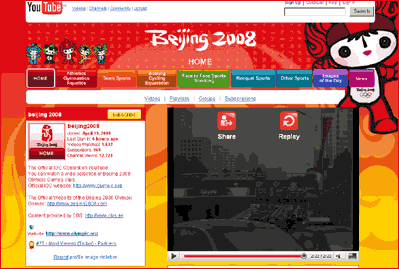 Relief is, all videos are NOT stacked in one place. They are neatly categoriezed in different sections to allow you browse type of videos you actually want.
Channel's Hompege has interesting videos about China and its endeavours for preparation of this mega event. Besides there are categories like:
Athletics, Gymnastics & Aquatics.
Team Sports.
Boating, Cycling & Equestrian.
Face to Face sports & shooting.
Racquet Sports.
Other sports.
Besides above, there are two more sub-channels for Olympics. 'Images of the day' bring you sights and scenes of daily dose of Olympic ramblings and 'News' showcase what is happening at Olympics.
As expected you can only view these videos online and cannot 'embed' them on your website or blog. Head over Youtube Olympics Channel, worth a view and bookmark. Did you check Online Olympics Guide?