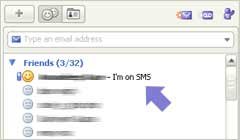 If you set Yahoo account on 'I am on SMS', then your Yahoo messenger friends can send you free SMS.
When you are offline, your friends will see 'Im on SMS' next to your ID. They can click on your ID and send message which you will receive on your mobile phone.
This is all free, you will only incur charges if you reply to received SMS from your mobile phone. Here is easy procedure to set your ID on 'Im on SMS' in Yahoo Messenger.
Step1. Log in Yahoo Messenger. Then click on 'Messenger' tab and click on 'Sign in to Mobile Device',
Step2. In the next window select country from drop down menu and enter your mobile number. You don't have to enter country code, just enter your mobile number without any country code.
Step3. You will receive SMS with a code like 5746. Enter that code in the next window and its all done.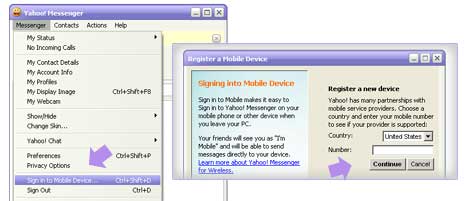 Everytime you log-off from Yahoo messenger you will receive SMS with details of friends currently online. Besides, you will also receive messages on mobile phone if any messenger friends sends your message while your status is set to 'Im on SMS'
This is very handy, till now not even single message was lost and SMS are delivered instantenously. Again, there are NO charges to receive messages from friends. You will only incur charges if you reply to friend via receive message.
P.S.You can edit your mobile settings on Yahoo messenger by clicking 'Messenger' -> 'Preferences' (or use Ctrl + Shift + P) Checkout settings at the bottom of the window.