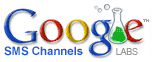 Here is an interesting new web service that brings mobile phone and web closer than before.
Google SMS Channels allows you to subscribe content of your choice and receive free updates on your mobile phone.
Besides subscribing to existing channels, you can create your own channel and start serving specific content to users subscribed to your channel. As pointed by Amit, this can be good way for bloggers to connect with audience.
Using RSS Feed, you can create a channel of your blog. Your subscribers will receive blog updates on their mobile phone as and when they happen. To get started with either creating channel or subscribing to any available channel, you need to verify your phone number.
HOW TO VERIFY PHONE NUMBER & GET STARTED?
On the web you can login using Google Account and then enter your phone number. You will receive verification code, enter that unique code to complete the sign up process. Check details in FAQs section.
Concept of group SMS may not be new but with Google backing this service – one can expect better integration, reliability and wider usage. Create your own blog or friends SMS channel and start sharing!