Do you want to updates of your favorite Twitter user on mobile phone? Using mobile apps to follow Twitter activity can be heavy loaded routine for majority of mobile users. Making things simple and quick – just send a SMS to get updates from any Twitter user instantly in your country.
Send SMS to receive Twitter user updates
1. Go to compose message screen on your mobile phone.
2. Type follow username (replace username with actual Twitter username, for example to receive Tothepc update you need to type follow tothepc)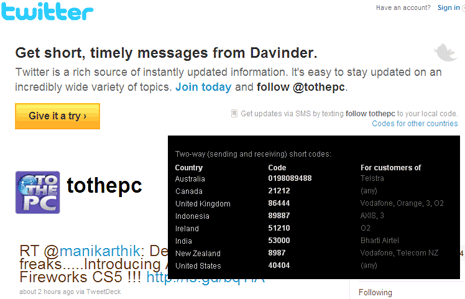 3. Send SMS to local number for your country.
Numbers for different countries and supported mobile carriers:
Australia 0198089488 (Telstra), Canada 21212 (any), United Kingdom 86444 (Vodafone, Orange, 3, O2), Indonesia (89887 AXIS, 3), Ireland 51210 (O2), India 53000 (Bharti Airtel), New Zealand 8987 (Vodafone, Telecom NZ), United States 40404 (any).