Are you are twitter hero? Want to know the value worth of your Twitter profile? Well, TweetValue tells you the same in  few simple clicks.

Just enter your Twitter username and click on 'get my value' button. You will see the value rating in terms of $ (US Dollar). It calculates value using a Ph.D algorithm that is based on the public information available on your Twitter profile. Homepage also show list with highest valued Twitters.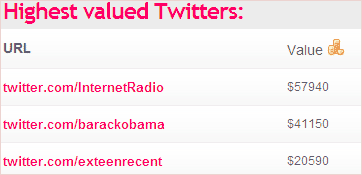 Obama may have won the election but here 'barackobama' Twitter ID is stil close second. Interesting way to check your Twitter profile value worth with TweetValue. So, what is value of your Twitter profile?