Gmail is becoming a powerhouse to do more than just checking and sending emails. Now you can also Twitter within Gmail without having to jump onto new browser window to access Twitter account. This is possible using Google Gadget 'Twitter Gadget' that be easily added to Gmail.
Using this, you can perform all basic Twitter routines within Gmail like reading updates, sending replies, viewing timeline etc. It automatically refreshes to show latest Twitter updates in your account.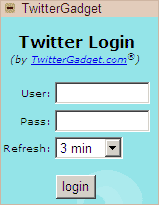 HOW TO USE TWITTER GADGET?
It is very easy, just login to your Gmail account. Goto 'Settings' > 'Labs' > 'Add gadget by URL' – enable this option and click on save changes button. Now again click on 'settings' and you will see new tab 'gadgets'. Click on it and add this URL [http://www.twittergadget.com/gadget_gmail.xml]
Twitter login box will appear on the left sidebar in your Gmail inbox. Login into Twitter account and select the time to refresh Twitter updates among given options of 3m, 5m, 10m and so on.
Start Twittering within Gmail – Twitter Gadget is a perfect option if you are addicted to Twitter and Gmail, what say?