Email is a common online medium for communication. Sometimes, we need to know about an email sender besides his email address. You can easily get email sender's detailed information by viewing full headers of received email. Information contained in full email headers can be used to know email sender IP address, location, domain URL and much more.
Gmail (Google Mail) email sender IP
1. Open Email header in Gmail for any email message. Open any email message, then click down arrow next to reply button & click 'Show Original' option.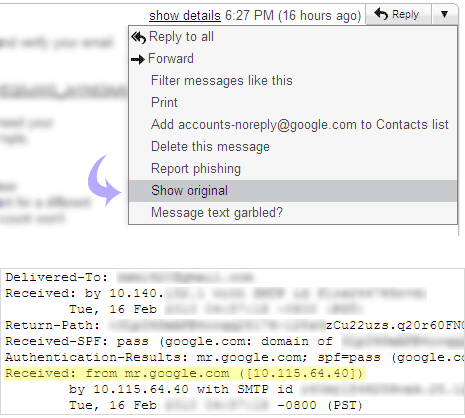 2. A new window open with lot of text. Look for Received: from abcdef.com ([10.1xx.64.x0]) Hence, 10.1xx.64.x0 is email senders IP address.
Yahoo Mail email sender IP
1. Open any email message and click full header button at bottom right (if using Yahoo Mail Classic). New Yahoo Mail beta users can open email message in full view & then goto Actions >Full Header [Details with screenshots]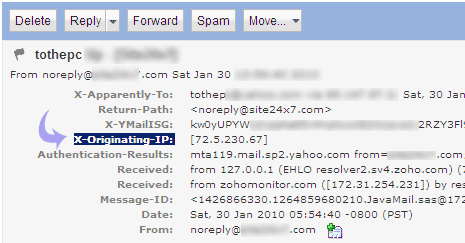 2. Top part of email message with expand showing lot of additional details. Look for 'X-Originating-IP' in mail header information. That is the actual IP address of the email sender.
Windows Live Hotmail email sender IP
Unlike Yahoo & Gmail, there is no direct option to view email headers atleast in single email message mode.  You need Login to Windows Live Hotmail account and click Inbox button. Then right click on any email message and click 'view message source' button. A new window will open showing full email header details of email received on Windows Live Hotmail account. [Details with Screenshot]