Email headers provide detailed information about email sender. By default, only email sender's email ID is displayed when you open any email in Gmail inbox. To more details like sender's IP address, URL domain and more, you can open full email header of any email message received on your Gmail email address.
Open Full email header on Gmail
1. Open Gmail.com & login into your account.
2. Click to open any email message in the inbox.
3. Then click down arrow next to reply button & click 'Show Original' option.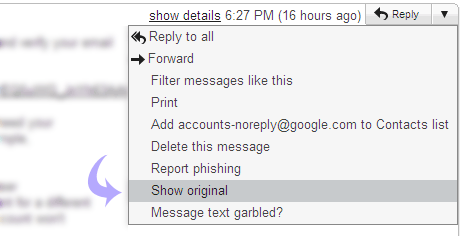 A new window will open showing full email header information. Using this procedure you can see full email header details of any received email message.