Do you want to refine Google Search results to specific place or region? New "Nearby" feature on Google Search allows to search internet by specific location, city, state or region. Using this feature you can get more relevant and useful results. For example: "Yoga Centers" results for your region or location.
How to Google Search by 'Nearby' location
1. Goto Google.com – if default Google search page is country specific (like google.co.in), then click Google.com link at the bottom of the page or directly open google.com/ncr to prevent redirection to local Google Search homepage.
2. Enter any keywords like "Yoga Centers" & click Search button.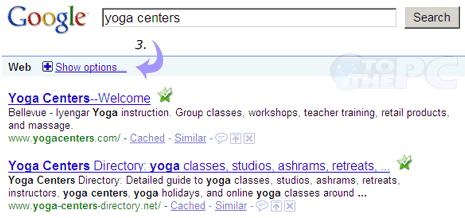 3. Click "Show Options" button under the search bar.
4. Scroll down & click "Nearby" link on the left side.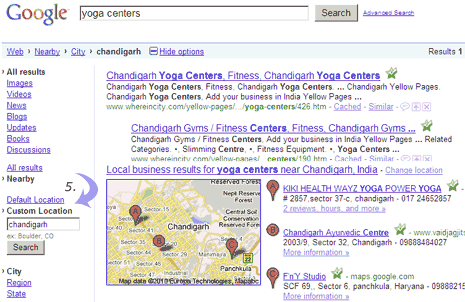 5. Click Custom location, enter your region & click search. You can use custom location for specific: city, region or state. [via GoogleBlog]
While above options allow you to go local for search results, you can go global with Google Insights to checkout what world is searching on the internet – take your pick!