Google+ craze is spreading fast and we often see avatar photos of users with prominent Google+ button and "I have moved to Google+" text specially for Facebook friends. Do you want to create similar Google+ style avatar photo? You can easily make such avatar image online using 'Google+ Profile picture' creator tool. It allows you to re-size and adjust any uploaded photo and further add cool looking Google+ button and 'I have moved to Google+' text to the final profile photo. There is nothing to install or register, just few clicks and your Google+ profile image is ready.
'+me' online Google+ picture profile maker tool
1. Open +me profile maker website. To get started, you need to upload your photo. It can be a JPG, GIF or PNG image file. Click Choose File button and select the photo you want to upload from your computer. Selected photo will be automatically uploaded and displayed in the online editor.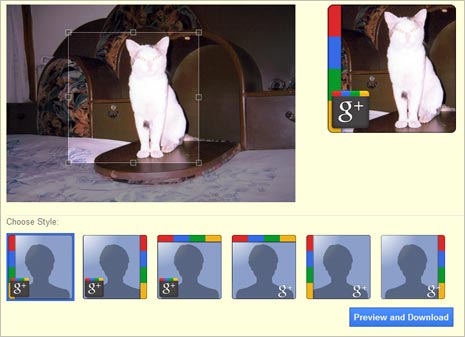 2. Using mouse you can move to select the part of photo that should be visible in the final Google+ profile photo. Also, you can click to select among different Google+ button styles by clicking either of option at the bottom.
3. Once you have adjusted the photo and chosen the style, click Preview and Download button. Right click on final Google+ profile photo and click 'Save as' button to download it on your computer.
Create 'I have moved to Google+' profile photo
1. Repeat steps 1 and 2 that involves uploading your photo and then adjusting which part of the photo should appear in the final profile avatar image.
2. Then click on 'Facebook Pic' tab, your final profile photo will now have "I've Move to Google+" text written at the bottom. Click on 'Preview and download' button to grab cool Google+ profile photo with teaser text " I have moved to Google+". Further, you can upload and share it with friends on Google+ and even tease few on Facebook.