Google Translate, the online language translation service from Google has added a handy new upload feature. Till now, we had to either provide URL or manually paste text to perform language translation. Now you can perform direct translation of contents of any file by uploading to Google Translate.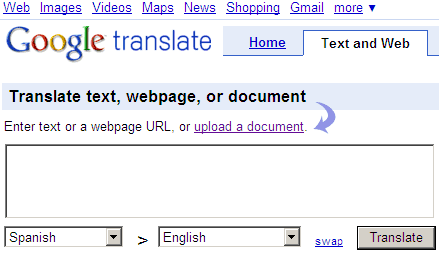 Related – Google Translate desktop client tool, Windows & Linux
While on Google Translate, click "upload a document" button. Then browse & select specific document, select "to" "from" languages and hit the translate button. You uploaded document contents will be translated without you having to copy its content manually to translation window.
It even preserve some part of formatting in final translated document. You can translate word documents, PDF files, presentations, text files using this new feature at Google Translate – for sure a welcome addition! source