Automatic languages translation has made debut on Gmail. Now you can read emails written in different languages in language you are familiar with. This automatic language translation is powered by Google Translate and can be easily activated from Gmail labs option.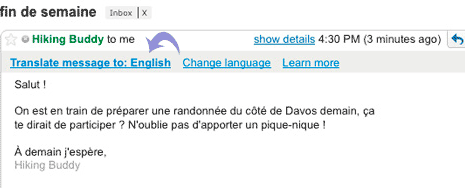 To get started, click on settings and goto Labs tab. Click enable next to Message Translation option and click save changes button. From now on, every email message with different language will have option link to translate message (see pic above).
After Google Reader, it was natural for Google to extend translation feature to Gmail. Now you can converse with people from different countries without having to worry about language barriers. As always Gmail rocks!