Many times we come across interesting blog written in different language. While there are ways to translate any blog to any other language using Google Translate, new feature in Google Reader has made things very easy and automatic.
Google Reader has added new feature which allows you to translate and read any RSS feed in 'your language'. A click of a button will automatically translate feed content language. Here is the simple procedure to get going:
Subscribe to any RSS feed of a different language.
Then click on 'feed settings' > 'Translate into my language'.
Its done, check feed contents – it will be in your language.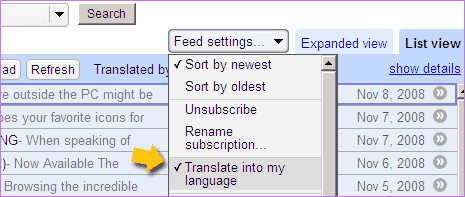 This is one time procedure, after you click on 'Translate into my language' button for specific feed, all posts will appear in 'your language'. To see feed contents in original language, just uncheck the option 'Translate into my language'. Very useful feature from Google Reader team, what say?