Google Docs can be used to create and view any type of text based documents. Checking meaning of words used in a document is a usual routine. Now you can do this easily in the new editor of Google Docs. "Define" feature allows you to check detailed dictionary meaning and web definitions of any word withing Google Docs editor window.
Check dictionary meaning of any word in Google Docs
1. Log in your Google Docs account (at docs.google.com). Then create or open any Google Docs file (make sure you are using new Google Docs editor).
2. Select any word using mouse (double click on word to select it).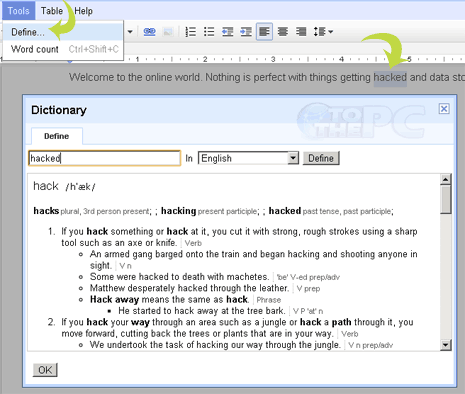 3. Then goto Tools > Define. A window will pop-up displaying the dictionary meaning and web definition of selected word, powered by Google Dictionary.
For sure one quick and easy way to view meaning and web definition of words being used in your Google Docs documents in few simple clicks. [via Docs Blog]