Yahoo Mail can be used for more just sending and receiving email. If you are an active Facebook and Yahoo Mail user, then you can enjoy goodness of Facebook from within Yahoo Mail inbox. For this you need to add and link your Facebook account with your Yahoo Mail account. Once you link both accounts, you can send and view Facebook profile contents in Yahoo Mail inbox.
Add & verify Facebook account in Yahoo Mail
1. Login into Yahoo Mail account by going to yahoomail.com

2. On the Yahoo Mail inbox page, click "What are you doing right now?" message.
3. Then click "Add Facebook" button.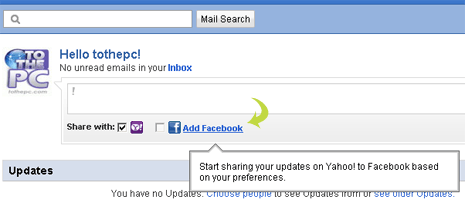 4. A new window will open, enter your Facebook account login information and click Connect button.
5. After successful login, click "Continue" button to share updates between Yahoo and Facebook. After above linking and verification you can publish Facebook updates from Yahoo Mail inbox.