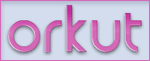 Mobile market is booming in India and this for sure is ripe time to launch mobile based extended services.
Orkut has launched 'Orkut SMS' to the pleasure of their thousands of mobile hooked users. Orkut SMS allows you to receive new scrap notifications, get friend info and more from your mobile device.
Head to your Orkut account, check for 'mobile' tab under 'settings' or click this direct url. First you need to register your mobile number. Select your mobile carrier and enter your telephone number.
This service is supported mobile carriers: Aircel, BPL, MTNL, Reliance, Spice and Tata. Sadly, no Airtel and BSNL. Orkut SMS is a premium service and you will be charged by your mobile provider.
You can check for pricing details before registering your phone number. One cool feature for Orkut addicts to stay updated on the GO. [via Rahul]