Are you looking for an easy way for Yahoo Messenger chat on Android powered mobile phone? You can do this using official Yahoo Messenger app for Android. It allows rich user interface and experience while chatting with Yahoo buddies through IM on mobile phone. This app is available for free download for use on any Android phone including Motorola Droid, HTC Incredible, Google Nexus One.
Features of Yahoo Messenger Android app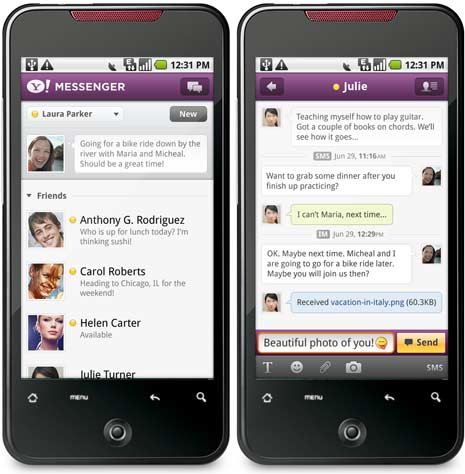 1. IM chatting with Yahoo friends on mobile phone.
2. Keep check on friend's status updates and availability.
3. It support rich text formatting and emoticons.
4. You can also chat with MSN, Windows Live Messenger friends.
5. Share photos click from phone's camera or pics in gallery.
6. Run this app in background for anytime notifications, new messages and friend requests.
Download Yahoo Messenger Android app
Goto m.yahoo.com/messenger on your mobile browser to download Yahoo Messenger app for Android phone. Alternatively, you can get it from Android marketplace. More details at official Yahoo Mobile webpage [via Yahoo Blog].