You need Yahoo account to access various Yahoo powered services like Yahoo Mail, Hotjobs, address book, finance and more. If for some reason you want to delete your Yahoo Mail account, then you need to delete associated Yahoo account. You can delete specific Yahoo account to terminate associated Yahoo Mail account using following procedure.
Permanently remove Yahoo (Mail) account

1. Goto YahooMail.com and login into your account.
2. Then open https://edit.yahoo.com/config/delete_user for terminating your Yahoo Account.
3. Type password of your Yahoo account and the security code as displayed.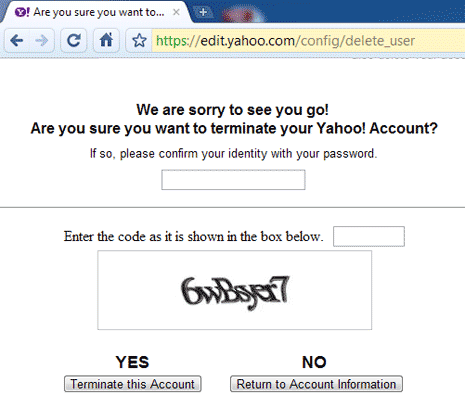 4. Click 'Yes, terminate this account' button. This will delete your Yahoo account. Once account is set for deletion, it cannot be recoverd – so be careful!
Please note – deleting your Yahoo account does not alter or delete your Yahoo People Search listing. You must edit or delete it separately as listings may not need Yahoo account login.