With more people restricted to computers and internet, there are newer ways to show love and affection on special days like Valentine Day. You can give Windows 7 operating system a makeover with Valentine Day Lacy Hearts theme or create Valentine Day e-cards or those good old Valentine Day desktop Wallpapers.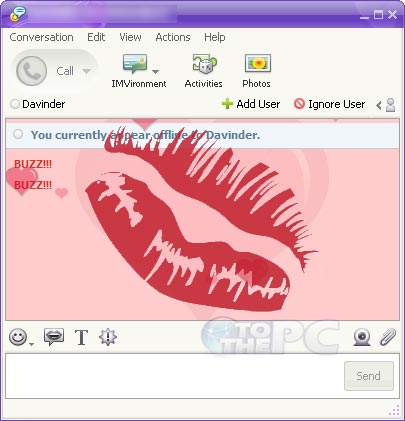 If you are chatting with someone special on Yahoo messenger, give that person a sweet surprise with "Falling Hearts IMVironment". Open this link and click 'Try it Now!' button to load love laden environment in Yahoo Messenger. Also, don't forget to click Buzz button (or Ctrl + G) to send virtual kiss during Yahoo IM chat. [Make sure you have Latest version of Yahoo IM]
Besides this, YahooIM blog gets vintage collection of emoticons best fit for Valentines Day like: lovestruck (
), blushing (
), the always popular kiss (
), or big hug (
). Here handy list of IM emoticons. Have fun this Valentine's Day!