Yahoo Messenger 10 Beta is out with cool new features. Overall look is similar to previous version but there are number of new buttons and menu options. Now you can chat with Yahoo messenger friends in full screen high quality HQ video mode by clicking all new "video call" button in Yahoo Messenger window.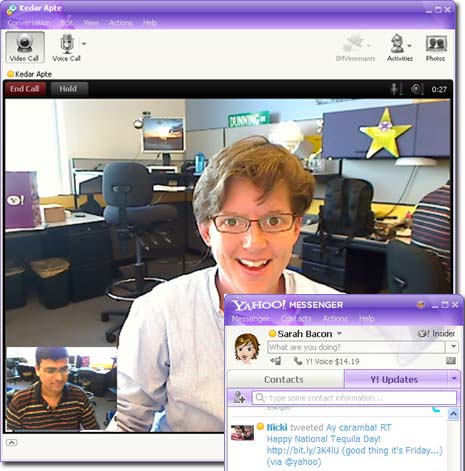 Yahoo Messenger 10 Beta Features
1. Full Screen HQ video calls with Yahoo friends.
2. Ability to swap video windows, mute the call or place it on hold.
3. Yahoo Updates more visible in a tab on main messenger window.
4. Easily change language: Messenger > Preferences > Language
5. Sort messenger contacts by online availability.
6. New IM icons in toolbar with separate video, voice call buttons.
Here is video explaining new features of Yahoo Messenger 10 Beta:
Download Yahoo Messenger 10 Beta and enjoy above cool feature while chatting Yahoo Messenger friends. Please note, it is a beta release and may contain bugs / errors.