NewYear is all set to spillover and its that classic time to make 'New Year' resolutions. Making resolutions is easy but sticking to them is hard. Resolution Randomizer is a web service to tackle easy part of making resolutions.
It is Microsoft Silverlight based applications that show you a resolution randomly with a click of a button. There are 3 spinning columns, a click on 'randomize button start the spinning and show a new resolution. Get wild, wacky and discover a NEW resolution for the NewYear.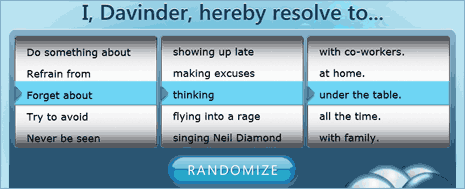 As pointed by Brad, its really difficult to think for meaningful NewYear resolution. Head over to spinning Resolution Randomizer for some meaningful and new resolution which you can stick to or break as year goes by.