Yahoo has launched an Adobe Air based desktop client for Twitter. Best part (or worst part), it only has limited features as compared to other desktop Twitter client. It does not allows you to send or track tweets from friends. It only supports searching for hot keywords and stuff on Twitter.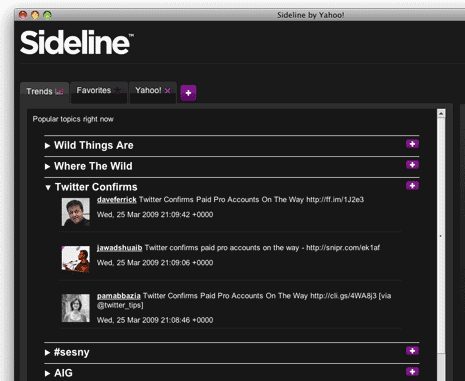 Other Twitter Clients: TweetDeck – Seesmic – Chirp – Twhirl
You can search for specific keyword among all Twitter users and see results in consolidated manner. You can create specific groups like Microsoft + Windows7 and track all tweets related to those keywords. It has auto refreshing feature and allows you to search stuff of your interest.
Download Sideline from Yahoo, if you want to search Twitter real time in jazzy interface with customized enviroment. For quick web based Twitter exploration, you can always use Advanced Twitter search. Not sure how many users will install this app, that only searches Twitter with jazz – are you one of them?